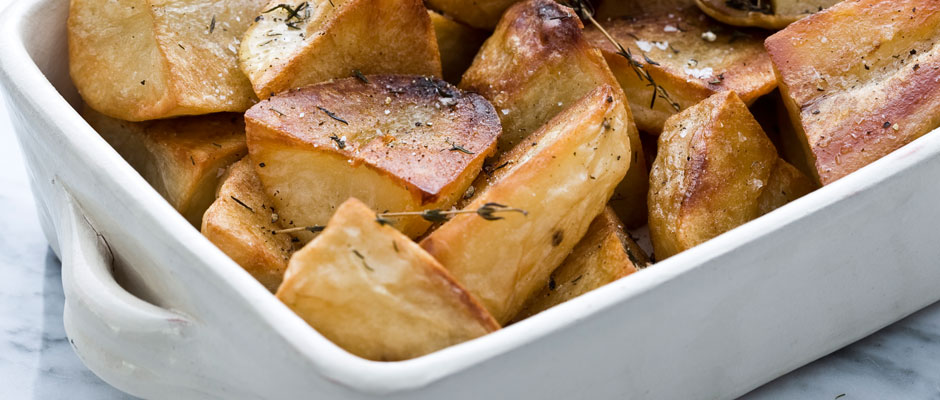 Crispy Roasted Potatoes with Thyme and Garlic
Ingredients
1 large garlic head, halved crosswise
7 tablespoons olive oil, divided
6 russet potatoes, peeled and each cut into 4 equal pieces
Salt and freshly ground black pepper
Directions
Make-Ahead:
The roasted garlic can be made 4 hours ahead, covered and kept at room 
temperature.
To roast the garlic and thyme:
Preheat the oven to 450°F. 
Place the garlic halves on a sheet of foil. Set the thyme sprigs atop the garlic. Drizzle 1 tablespoon of oil over the garlic and thyme, and then wrap them tightly in the foil. Set the foil packet in a small baking dish and roast for about 35 minutes, or until the garlic is soft. Open the foil packet and continue roasting on the foil for about 10 minutes, or until the garlic is golden brown. Set aside.
Meanwhile, to roast the potatoes:
On a large baking sheet, toss the potatoes with 3 tablespoons of the oil to coat, and then arrange the potatoes in a single layer and sprinkle with salt and pepper. Bake for 20 minutes. Using a metal spatula, turn the potatoes over. Drizzle with the remaining 3 tablespoons of oil. Continue baking until the potatoes are crisp and dark golden brown on all sides, about 25 minutes longer.
Transfer the potatoes and thyme to a platter. Serve with the roasted garlic.
Other recipes you might like