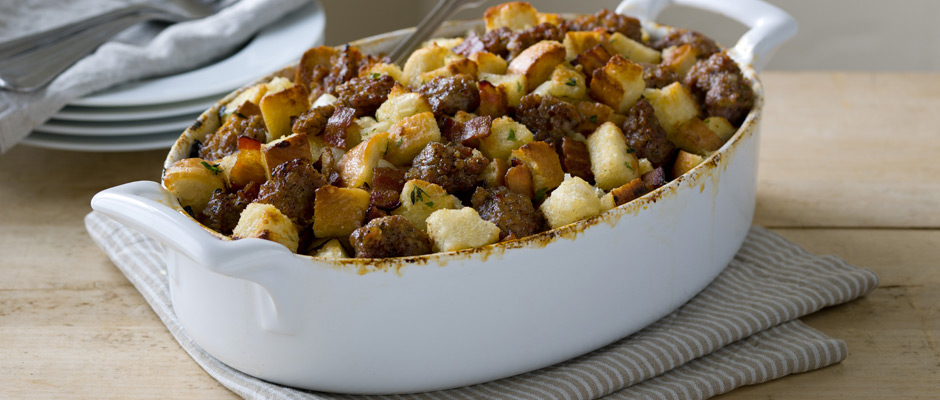 Fennel and Bacon Stuffing
Ingredients
10 slices applewood-smoked bacon, coarsely chopped 
3 garlic cloves, finely chopped 
8 ounces mild or spicy Italian sausages, casings removed 
2 tablespoons chopped fresh flat-leaf parsley 
1 tablespoon chopped fresh thyme 
2 fennel bulbs, medium diced 
1/2 cup (1 stick) butter, diced 
3/4 cup turkey broth or chicken broth 
1 1-pound French baguette, bottom crust trimmed, bread cut into 3/4-inch cubes 
Kosher salt and freshly ground black pepper
2 large eggs, beaten to blend
Directions
Make-Ahead:
The stuffing can be assembled (unbaked) 6 hours ahead and refrigerated; add 10 
minutes to the baking time.
Preheat the oven to 350°F. 
In a heavy large sauté pan, fry the bacon over medium-high heat until golden brown, about 7 minutes. Using a slotted spoon, transfer the bacon to a plate. Pour off all but 2 tablespoons of the fat remaining in the pan. 
Add the onions to the same pan and sauté until tender, about 4 minutes. Add the garlic and sauté until fragrant, about 30 seconds. Add the sausages, parsley, and thyme and cook until the sausage browns, about 4 minutes. 
Add the fennel and cook until tender and pale golden, stirring often, about 5 minutes. Stir in the cooked bacon. Add the wine and bring to a simmer. Add the butter and cook until the butter melts. Remove from the heat and stir in the broth.
Place the bread cubes in a very large bowl. Add the sausage mixture and toss to coat. Season the stuffing to taste with salt and pepper. Mix in the eggs. 
Transfer the stuffing to a 13x9x2-inch baking dish. Cover with foil and bake for 25 minutes. Uncover the stuffing and bake until golden brown on top, about 15 minutes.