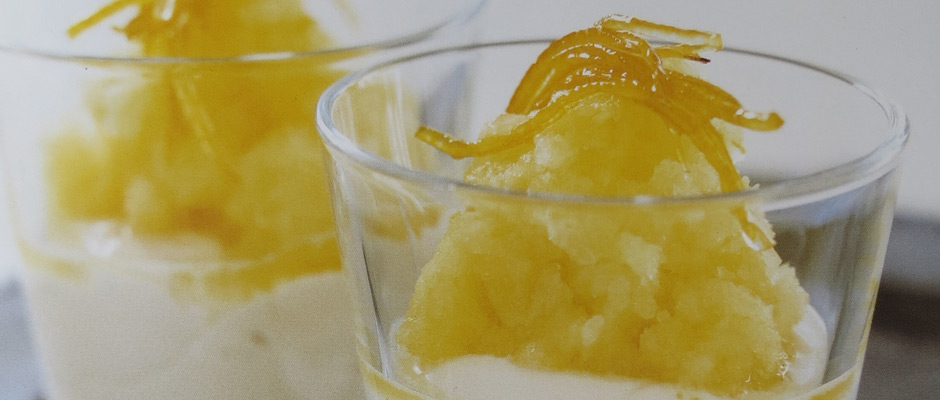 Orange Granita with Mascarpone
You can make granita from almost anything – from fruit juices to Champagne. They are a great palate cleanser, so may be served between courses. 
Ingredients
10 ounces superfine sugar
Finely grated rind of 2 small oranges
1 cup freshly squeezed orange juice, chilled
1/4 cup freshly squeezed lemon juice
1/3 cup Muscat or dessert wine
1 cup mascarpone cheese, softened
Directions
Make-Ahead:
The granita will keep in an airtight container in the freezer for up to 3 days. The 
confit orange rind can be made up to 2 weeks ahead, covered and refrigerated.
Place 2 cups of the water in a saucepan with 2 ounces (about 1/4 cup) of the sugar. Add the finely grated rind, and bring slowly to the boil. Remove from the heat, and strain into a bowl. Stir in the orange juice and lemon juice, and place in the freezer. Once ice crystals start to form – in about 15 to 20 minutes – stir the mixture with a fork to break them up. Return to the freezer, and continue this procedure until the mixture resembles snow. 
To make the confit orange rind:
Using a sharp knife or a vegetable peeler, thinly peel the 3 oranges, ensuring that no pith is left on the peel. Slice it into thin strips. Place in a saucepan, cover with cold water, and bring to the boil. Strain, then return to the empty saucepan, and add the remaining 1 cup water and 8 ounces sugar. Slowly bring to the boil, reduce the heat to very low, and simmer for 1 1/2 to 2 hours. Cool completely.
To make the mascarpone cream and serve
Mix the Muscat into the mascarpone, and place in the bottom of 4 dessert glasses. Place a large spoonful of granita on top, and garnish with the confit orange rind.
Other recipes you might like