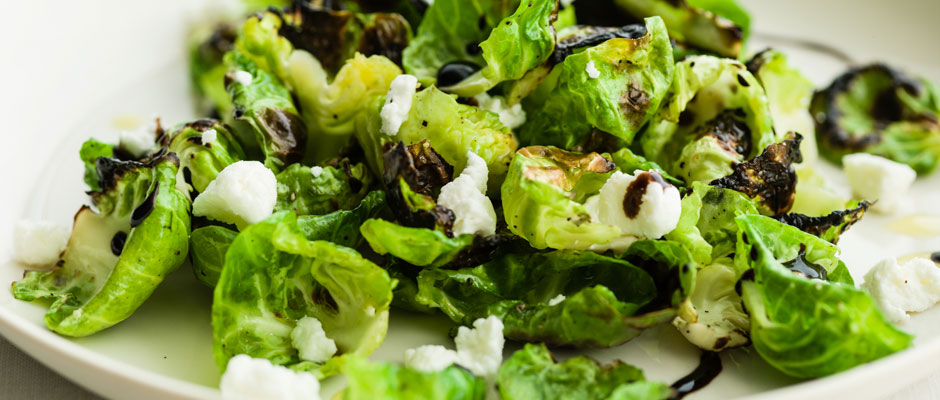 Grilled Brussels Sprout Salad with Goat Cheese
Ingredients
4 cups fresh Brussels sprouts
2 tablespoons extra-virgin olive oil, divided
1 tablespoon good-quality balsamic vinegar
4 ounces soft goat cheese
Directions
Make-Ahead:
This salad is best eaten as soon as it is made.
Prepare the barbecue for medium-high heat.
Using a small paring knife, cut the stem end of the Brussels sprouts and peel away the outer leaves. Continue to cut the stem end of the sprouts to allow each layer of leaves to be peeled away without ripping the leaves. Repeat this process with all of the sprouts to remove their leaves.
In a large bowl, toss the Brussels sprout leaves with 1 tablespoon of olive oil to coat. Season to taste with salt and black pepper. 
Grill the leaves, turning with tongs to ensure the leaves cook evenly and do not burn, for 4 to 5 minutes, or until tender but firm, and slightly charred. If the grill grates are too far apart to hold the sprout leaves, use a grill basket.
Transfer the grilled leaves to a large wide serving bowl. Toss the leaves with the remaining 1 tablespoon oil to coat, and then drizzle the vinegar over the leaves. Crumble the goat cheese over the salad and serve warm.