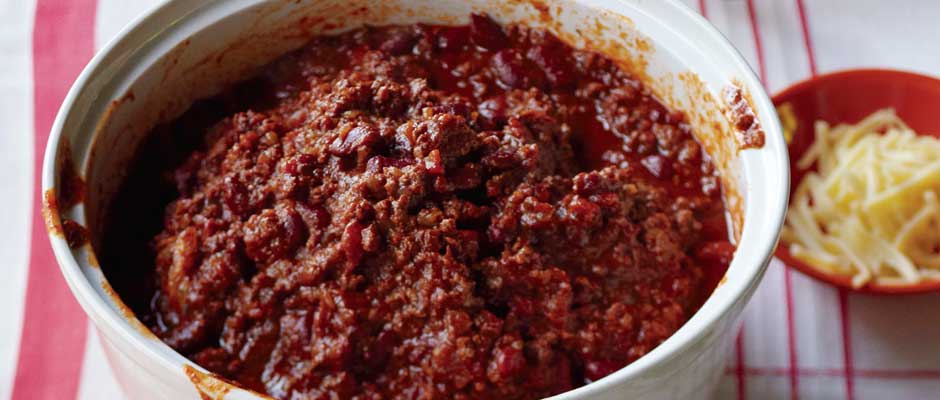 Southwestern Chili
Whole dried red chilies make this chili like none other. I first made it in Santa Fe, New 
Mexico, where chilies are a cooking staple, for Take Home Chef. Replace the ground beef 
with cubes of pork shoulder and simmer the chili for an additional 30 minutes to make a classic 
carne adovada.
Ingredients
9 dried red New Mexico or California chilies, stems and seeds removed
8 garlic cloves, crushed, peeled
4 cups reduced-sodium beef broth
2 pounds lean ground beef
2 1/2 teaspoons ground cumin
1 1/2 teaspoons freshly ground black pepper
1/2 teaspoon cayenne pepper (optional)
2 medium white onions, finely chopped
One 28-ounce can crushed tomatoes
1 tablespoon white wine vinegar
Two 15-ounce cans red kidney beans, drained, rinsed
Grated white Cheddar cheese
Plain Greek yogurt or sour cream
Corn tortillas or corn chips
Directions
Make-Ahead:
The chili can be made up to 3 days ahead, cooled, covered, and refrigerated; 
reheat gently until simmering before serving.
In a large saucepan, bring 4 cups water to a boil over high heat. Remove the pan from the heat and add the chilies. Weigh down the chilies with a plate and soak for about 20 minutes, or until they soften slightly. Drain.
In a blender, puree the chilies and garlic with the broth. Season to taste with salt and set the sauce aside.
Heat a large Dutch oven over high heat. Add the canola oil, then add the ground beef and cook, stirring occasionally and breaking up the meat with the side of the spoon, for about 8 minutes, or until the beef is browned. Stir in the cumin, black pepper, and cayenne pepper, if using. Add the onions and cook, stirring occasionally, for about 10 minutes, or until tender.
Stir in the reserved chili sauce, the tomatoes, and the vinegar and bring to a gentle simmer. Reduce the heat to medium-low and simmer gently, uncovered, stirring occasionally, for about 1 hour, or until the sauce thickens slightly.
Stir in the beans. Cover and simmer very gently, stirring occasionally, for about 15 minutes, or until the chili has thickened a little more. Season to taste with salt.
Ladle the chili into bowls and serve with the Cheddar cheese, scallions, yogurt, and tortillas or chips on the side.