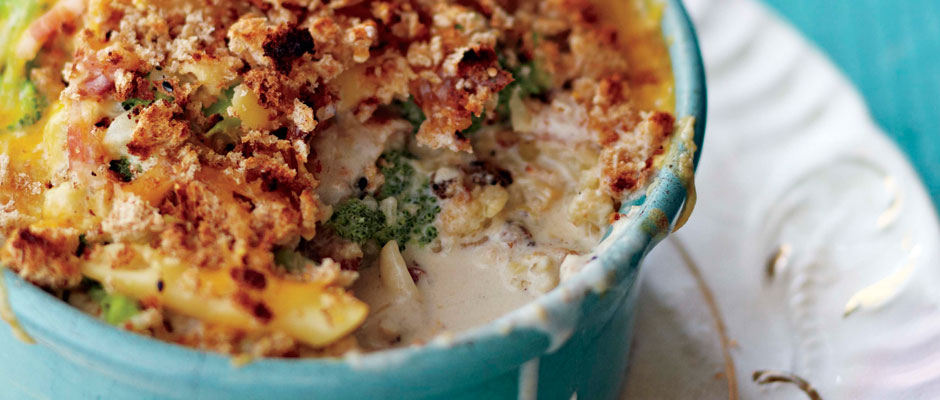 Roasted Cauliflower, Broccoli, and Pasta Bake with White Cheddar
We didn't call it mac and cheese, but when I was a kid my mum would toss veggies and pasta in 
cheese sauce and bake it until it was bubbling and golden brown. Roasting the vegetables first 
deepens their flavor and keeps the sauce creamy. This one's for you, Lozza.
Ingredients
6 tablespoons olive oil, plus more for the baking dish
1 head cauliflower (about 2 pounds), cored, cut into large bite-size florets
Kosher salt and freshly ground black pepper
18 ounces (about 8 cups) broccoli florets
1 1/2 cups (about 5 ounces) penne
4 ounces pancetta, coarsely chopped (about 3/4 cup)
1 small yellow onion, finely chopped
1 tablespoon finely chopped fresh thyme
1 tablespoon all purpose flour
1 1/4 cups shredded white Cheddar cheese (5 ounces)
1 cup very coarse fresh multigrain bread crumbs (made in a food processor or blender from 2 slices bread)
Directions
Make-Ahead:
The roasted vegetables, cooked pasta, and cheese sauce can be made up to 8 
hours ahead, cooled, covered separately, and refrigerated.
Position racks in the top third and center of the oven and preheat the oven to 400°F. Lightly oil a 2-quart baking dish or 4 individual crocks.
On a large baking sheet, toss the cauliflower with 2 tablespoons of the olive oil to coat. Season with salt and pepper. Spread evenly on the baking sheet. On a second baking sheet, repeat with the broccoli florets and 2 more tablespoons of the olive oil. Bake for 10 minutes. Stir each sheet of vegetables and switch the positions of the baking sheets from top to bottom. Bake for about 10 minutes more, or until the vegetables are tinged with brown. Set aside. (Leave the oven on.)
Meanwhile, bring a large pot of salted water to a boil over high heat. Add the penne and cook, stirring often to prevent the pasta from sticking together, for about 7 minutes, or until tender but still firm to the bite. Drain the penne.
Heat a large heavy pot over medium heat. Add 1 tablespoon of the olive oil and the pancetta and cook, stirring occasionally, for about 4 minutes, or until the pancetta is browned and crisp. Add the onions and thyme and cook, stirring occasionally, for about 2 minutes, or until the onions are tender and slightly browned. Sprinkle the flour over the onion mixture, then stir in the flour and cook for about 1 minute, or until it is very pale golden brown.
Gradually stir in the milk and cream. Increase the heat to medium-high, and bring to a simmer. Reduce the heat to medium-low and simmer, stirring often, for about 4 minutes, or until the sauce is lightly thickened and has no raw flour taste. Remove from the heat, add the Cheddar cheese, and stir until melted. Season to taste with salt and pepper.
Add the vegetables and penne to the cheese sauce and fold together. Spread evenly in the baking dish. In a small bowl, toss the bread crumbs and the remaining 1 tablespoon olive oil to coat, then sprinkle over the vegetable mixture. Bake for about 10 minutes, or until the crumbs are golden. Let stand at room temperature for 5 minutes before serving
Other recipes you might like