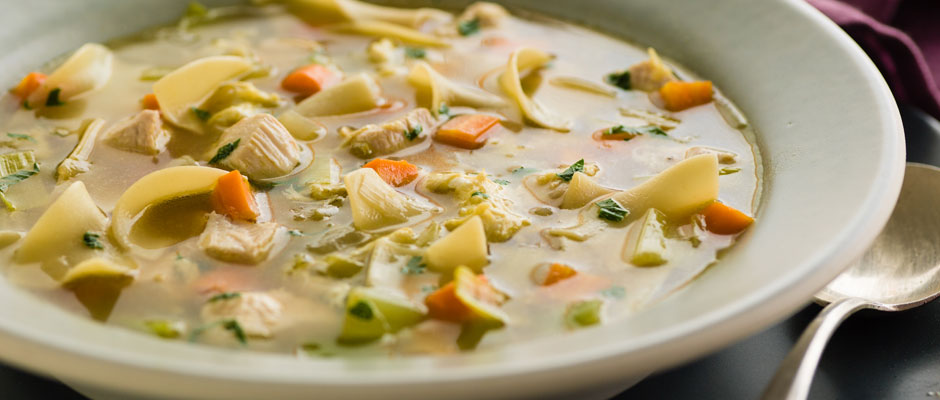 Hearty Chicken Noodle Soup
Ingredients
1 garlic clove, finely chopped
1 leek (white and pale green parts only)
1 large fresh thyme sprig
Sea salt and freshly ground black pepper
8 cups chicken stock or chicken broth
1 cup dried wide egg noodles
2 boneless skinless chicken breasts, cut into bite-size pieces
3 tablespoons chopped fresh flat leaf parsley
Directions
Make-Ahead:
This soup is best eaten as soon as it is made. 
Heat a large heavy pot over medium heat. Add the oil, then add the onion and garlic and sauté until soft, about 3 minutes.
Meanwhile, cut the leek, carrots, and celery into a medium dice. Add the leek, carrots, celery, and thyme to the onions and garlic. Sprinkle with salt and sauté until the vegetables soften, about 3 minutes.
Add the chicken stock and bring to a boil. Add the noodles and cook for 5 minutes. Add the chicken and simmer very gently until the chicken is just cooked through, about 7 minutes. Remove the thyme stem. Remove from the heat and stir in the parsley.
Beat the eggs in a small bowl to blend. While slowly stirring the soup in a circular motion, slowly drizzle the eggs into the soup. Cook just until the eggs form streaks throughout the soup. Season the soup to taste with salt and pepper.
Ladle the soup into bowls. Serve and enjoy.