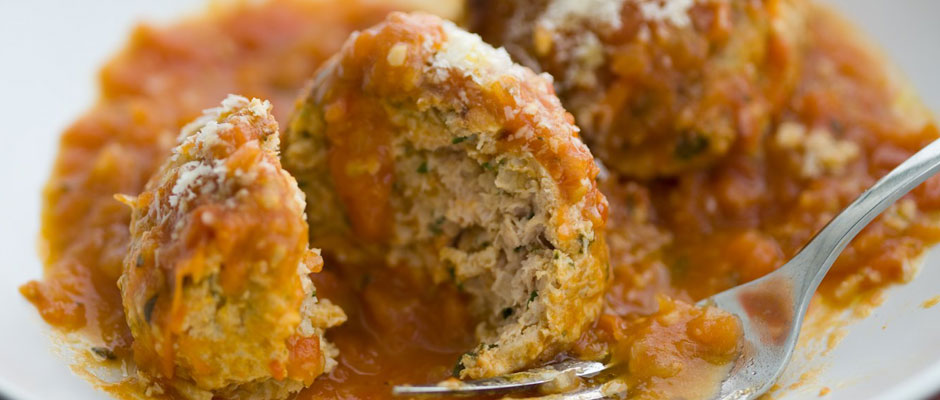 Turkey Meatballs in Homemade Marinara Sauce
Ingredients
3 shallots, finely chopped
6 large sprigs fresh thyme
1 1/2 cups dry white wine
4 pounds very ripe red heirloom or plum tomatoes, coarsely chopped
1/2 cup coarsely chopped fresh basil
Kosher salt and freshly ground black pepper
1/2 cup plain panko breadcrumbs
2 large shallots, finely chopped
2 garlic cloves, finely chopped
3 tablespoons chopped fresh flat leaf parsley
2 tablespoons chopped fresh thyme
2 tablespoons Dijon mustard
1 teaspoon smoked paprika
1 wedge Parmigiano-Reggiano cheese or other good-quality Parmesan cheese
Directions
Make-Ahead:
The sauce and formed (uncooked) meatballs can be made up to 1 day ahead, covered separately and refrigerated. Rewarm the sauce, covered, over medium heat until hot before proceeding.
To make the tomato sauce:
Heat a heavy wide pot over medium-high heat. Add the oil, and then add the shallots and garlic and sauté until tender, about 2 minutes. Add the thyme and bay leaf. Add the wine and tomatoes and bring to a simmer.
Simmer very gently uncovered over medium-low heat, stirring occasionally, until the tomatoes break down to form a chunky sauce (you may need to add a little water during the cooking process if the sauce thickens too much), about 11/2 hours.
Stir in the basil. Season the sauce to taste with salt and pepper. Remove the thyme stems and bay leaf.
In a large bowl, combine the turkey, breadcrumbs, shallots, garlic, parsley, thyme, mustard, salt, and paprika. Add the egg. Using your hand, gently mix just until blended. Form the mixture into 6 to 8 meatballs.
In a large heavy frying pan, heat the oil over medium heat. Fry the meatballs until golden brown all over, about 12 minutes. Using a slotted spoon, transfer the meatballs to the tomato sauce. Simmer gently until the meatballs are cooked through and the flavors are well married, about 10 minutes.
Transfer the meatballs and the tomato sauce to serving bowls. Using a Microplane grater, grate the Parmigiano-Reggiano cheese over the meatballs and serve.